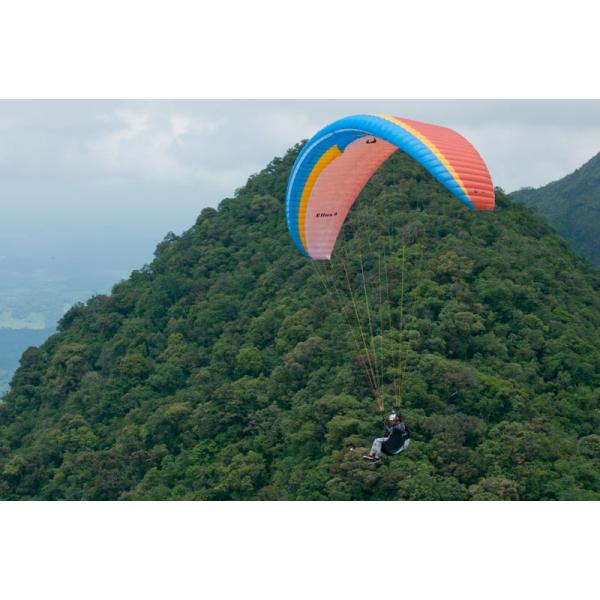 SOL- ELLUS 5
Price: $3800.00
Product Code: SOL- ELLUS 5
Product Status: available
SOL Ellus Five - the choice for a world of possibilities

The all new ELLUS FIVE, certificated with LTF/EN B, is an evolution within the "Ellus-Family", the fith generation. With his improved characteristics of handling and performance, glide, speed and stability the new Ellus Five is the perfect paraglider for pilots who want to consolidate the thermal flight and like to go on distance for many km without leaving the paraglider-category.

The ELLUS FIVE has its position above the gliders destinated for the entry to the level B, he offers clearly much more performance.

Characteristics of SOL ELLUS FIVE and diferences to the predecessors:

Glide (0.5 points more);

Battens (BT technology);

More A/R real and projected;

Thin risers 15 mm;

3 risers and lines for "big ears";

New lay-out, profiles and new construction for the diagonal bands;

New BOW Tech - Greater lift in the same sail area and better pressure distribution across wingspan glider.

Available in 4 size with LTF / EN - B certification + 2 special sizes with load test.

The SOL ELLUS FIVE combines our technologies for performance, safety and long life.

---

Downloads
---

Certification

​LTF/EN-B.

---

Photos

Project

The ELLUS FIVE consists of 53 cells and has internal crossed diagonals applied at the profiles to distribute the weight uniformly. This maintains the canopy very shapely and cleans and reduces the induced drag.

The ELLUS FIVE was designed at the new software. Its enhanced design and profile are the result of our continuous development and refinement process in terms of performance paired with stability. The improved features of this project permit a large speed range and excellent stability.

---
Flight Characteristics
Its higher aspect ratio allows a more precise piloting both to active pilots who like to use the body, as well as to passive pilots who prefer to act using the brakes. This characteristic allows a great performance in weak and strong thermals, while stability is maintained.

Long and tolerating brake length;

Excellent and precise handling;

High internal pressure;

Stability in full speed;

Light reactions in extreme conditions;

Good passive safety;

Excellent take off characteristics, even in nil wind;

Comfortable piloting;

Good behaviour in thermals.
---

Construction Characteristcs
The ELLUS FIVE presents:
Top and bottom design;

Riser for big ears;

Diagonal bands to reduce weight and the number of lines;

Reinforcements in batten technology;

Opening on the stabilizers to remove dirt;

Panels, profiles and parts cut by laser.
---

Technical Data
XS

S

M

L

XL

XXL

Zoom

0,93

0,97

1

1,03

1,07

1,11

Cells

53

53

53

53

53

53

Projected Span

8,88

9,26

9,55

9,84

10,22

10,6

m

Projected Surface

19,67

21,40

22,74

24,12

26,04

28,02

m2

Projected A/R

4,01

4,01

4,01

4,01

4,01

4,01

Real Wingspan

10,98

11,46

11,81

12,16

12,64

13,11

m

Real Surface

22,65

24,64

26,19

27,78

29,98

32,27

m2

Real A/R

5,33

5,33

5,33

5,33

5,33

5,33

Line Diameter

1 - 1,5 - 2,1

mm

Height

715

744

765

786

815

844

cm

Maximum Profile

2,54

2,65

2,73

2,81

2,92

3,03

m

Minimum Profile

59

61

63

65

67

70

cm

Weight

5,9

6,2

6,5

6,9

7,3

7,8

kg

Take off Weight

60/80




132/176

70/90


154/198

85/100


187/220

95/110


209/242

105/125


231/275

120-140
264-308
kg


lbs

Sink Rate Minimum

1

1

1

1

1

1

m/s

Minimum Speed

24 +/- 1

24 +/- 1

24 +/- 1

24 +/- 1

24 +/- 1

24 +/- 1

km/h

Trim Speed

38 +/-1

38 +/-1

38 +/-1

38 +/-1

38 +/-1

38 +/-1

km/h

Maximum Speed

54+/- 1

54+/- 1

54+/- 1

54+/- 1

54+/- 1

54+/- 1

km/h

Glide

9,6

9,6

9,6

9,6

9,6

9,6

km/h

Places

1

1

1

1

1

1

Certification

Load

B

B

B

B

Load

​

LTF/EN
---
2D View
---
Materials

Since 1991 SOL has been producing and following the evolution of materials and products. Our experience makes us choose the materials carefully, thus guaranteeing a good stability and a high safety level. All SOL paragliders are manufactured in our own plant, certified by DHV.

Top/Bottom: WTX 40 gr/m2 Nylon 6.6 HT PU+Silicon

Profiles/Diagonal: Pro Nyl 42 g/m2 Nylon 6.6 HT PU hard

Reinforcements: Battens (BT technology)

Lines:
-1,1 mm Cousin Dyneema
-1,1 mm Cousin Superaram
-1,5 mm Cousin Superaram
-2,1 mm Cousin Superaram

Risers: Fitanew 15 x 2,0 mm Flat Multi 1600kg

Carabiners: Ansung Precision 4mm 800kg

Pulleys: Nautos/SOL

---

Tecnology

SOL technologies for performance and comfort applied on ELLUS FIVE

---

Comes With
| | | |
| --- | --- | --- |
| | | |
| | | |
| | Measuring tape to check the distance between carabiners | |
Related Products