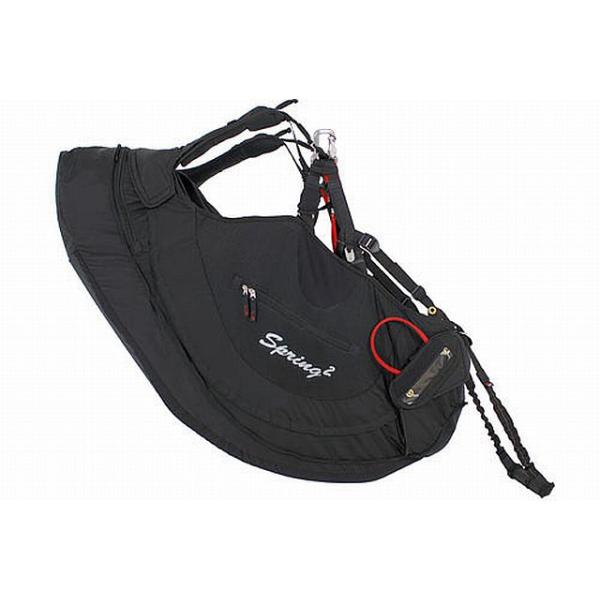 Spring 2
Price: $750.00
Product Code: Spring 2
Product Status: back order

The most complete 2-in-1 harness in the market
Our philosophy of continuous improvement of our products turns what is good even better – the Spring 2 / Spring 2 Airbag Cygnus + 18cm back protector reached the best historical result since back protectors are tested.
The goal of the Spring 2 / Spring 2 Airbag is to reach a better protection for the pilot and improve its comfort and handling. The rescue deployment system was configured completely new and is less vulnerable to installing errors and the foot stirrup use was refined.
The Spring 2 Airbag is a 2-in-1 harness transforming itself in a Spring 2 by disconnecting the Airbag through zipper and maintaining the protection of the 18cm back protector.f
Available in 2 versions.
- Spring 2 Cygnus Airbag
- Spring 2 without Airbag but with all other features.
Both versions EN-LTF certified - EAPR-GZ-7377/11.


---
COLOUR:
BLACK
---
SIZES:
M, L and XL
---
WEIGHT x HEIGHT:
This is just a reference table. It can not be used as exclusive resource for size decision. Consult your dealer.
---
WEIGHT:

Include: Back Protector, Wooden seat and Side Protections.
---
MATERIALS:

Fabrics:
- High tenacity Rip Stop Nylon
- Cordura®

Buckles and hardware
- Australpin
- ISR
- Charly-Finsterwalder
- National Molding

Straps:
- Poltex: polyamide and high tenacity polyester

Finishing:
-Neoprene
-Zipper YKK
---
INOVATIONS AND TECHNICAL RESOURCES:


-18cm foam back protector;




-Foot Stirrup guide;






-Foot stirrup;




-Reserve paraglider container 5 blades;






-EVA foam composed side protection and PP;




- Removable Airbag Cygnus (Spring Airbag);






-Independent bridles system according to LTF norm;




Adjustable Quick Lock T-Cobra for 38-55 cm;






-Easy Trimmer side adjustment
and safety strap;




-ABS System;






-Quick lock leg buckles;




-Passage for hose from the compartment of water;






-Anatomic padded shoulders;




-Back composed by ergonomic foam back protector and PP;






-Side pocket;




-Graduated adjustment system to facilitate handling of RS release, flight position adjustments, tensioning of speed bar ;






-Side plate for better load distribution;




-Impact and perforation protection plate;






-Large baggage pocket;




-compartment for personal identification;






-Marking for carabiner distance according to each wing size;




-pocket for water compartment;






-Double System Speed pulley;





Completely constructed according to EN-LTF norms.
---
IDENTITY:


SPRING 2


SOL




SOL