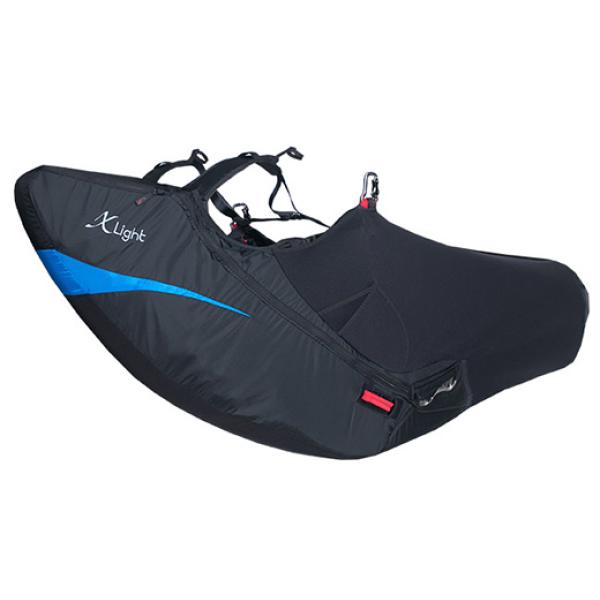 XLight
Price: $1100.00
Product Code: XLight
Product Status: back order
The XLight is a low weight harness developed for competition and XC pilots.
The XLight offers a maximum in comfort, performance and safety with the optional installation of a second front mounted rescue system.
The harness is EN/LTF certified in all requirements – structural, operational and back protection.
---
PHOTO GALLERY
Click here to see the X LIGHT photo gallery.
---
VIDEO GALLERY
Videos with infos for the Harness SOL X Light
- Info
- Packing the rescue system
- Storage of the harness in the backpack
- T-clip Leg connection reminder
- Rescue Front Container
---
COLOURS
---
SIZES
S, M, L and XL
---
WEIGHT
L size weight = 5.4kg back protector and seat plate included.
---
WEIGHT x HEIGHT

This is just a reference table. It can not be used as exclusive resource for size decision. Consult your dealer.
---
Click here to download the X Light Manual in PDF format.




---
CERTIFICATION
Click here to see the X Light certification.




---
MATERIALS

Fabrics:
- Cordura®
- High Tenacity Rip Stop Nylon

Buckles and hardware:
- Australpin
- ISR
- Charly-Finsterwalder
- National Molding

Straps:
- Poltex: polyamide and high tenacity polyester.

Finishing:
-Neoprene
-Zipper YKK


---

FEATURES
- Speed pulley






- 8L front ballast container;




- Removable instrument support container;






- Hose exit for camelfly;




- Length and inclination adjustment of the leg cover;






- P-Look buckle;




- Radio holder;






- 12 cm foam back protector EN/LTF certified;




- T-clip Leg connection reminder;






- 2 side pockets;




- Independent ABS System ;






- Intergrated Shoulder-seat regulation;




- Waist adjustment;






- Side adjustment with security stop;




- Reserve Handle;






- Passage for ballast hose exit;




- Neoprene safety cover on reserve bridle connection






- Anatomic shoulder cuts;




- Elastic rig for speed system and foot stirrup;






- Spacious storage compartment;




- Rescue compartment container;






- Spacious back pockets;




- Independent bridles system according to EN/LTF norm;






- Shoulders connection strap;




- Closing leg cover.