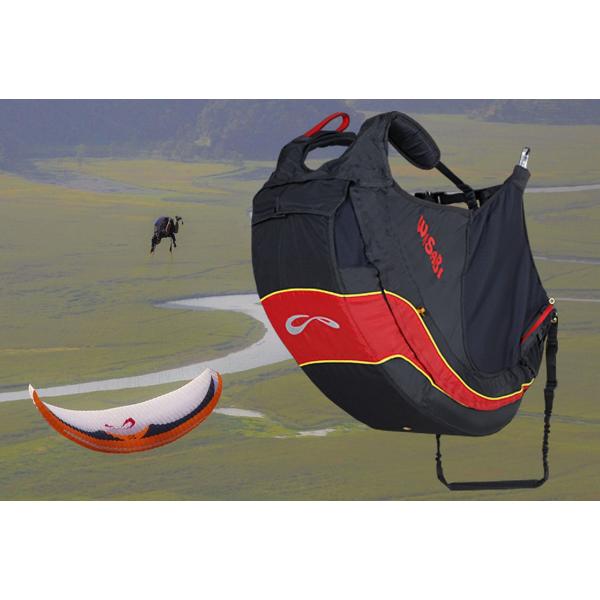 Wasabi
Price: $800.00
Product Code: Wasabi
Product Status: back order
As a result of the vast experience from achieved titles in aerobatic worlds events in close cooperation with the best pilots we are launching the new Acro harness 'Wasabi'. The Wasabi was developed to satisfy the demand of aerobatic and freestyle pilots.
It aims at pilots also who search for their limits and who want to practice with two independent rescue systems.
Enabled to install two rescues in strategically important position guaranteeing highest safety. Option for Rogallo rescue installation in lower rescue compartment.
Click here and see the WASABI photo gallery.
WASABI is a refined harness and innovator in all details:


M, L e XL
M: 4,7Kg
L: 4,8Kg
XL: 4,9Kg
Back Protector: 0,5Kg
Wooden seat: 0,7Kg
Click here to download the Wasabi manual in PDF format.
Fabrics:
- Nylon Rip Stop de Alta Tenacidade
- Cordura®
Buckles and hardware:
- Australpin
- ISR
- Charly-Finsterwalder
- National Molding
Straps:
- - Poltex: polyamide and high tenacity polyester
Finishing:
-Neoprene
-Zipper YKK




Independent bridles system according to DHV norm




Quick lock buckles






Adjustable Quick Lock T-Cobra for 38-55 cm




14cm thickness Mousse Back protector





ABS system with more stability in turbulent flights and collapses




Container for lower rescue







Extended Speed pulley




Adjustment straps manufactured according to DHV norm






Waist Adjustment




Side adjustment for the backrest






RS handle for lower rescue





RS handle for upper rescue







Container for upper rescue





---

Back composed by ergonomic foam back protector and EVA plate




Foam seat





Anatomic shoulder cuts to avoid friction with the neck




Back Pocket





Graduated adjustment system to facilitate handling of RS release, flight position adjustments, tensioning of speed bar




Polypropylene side plate for better load distribution






Foot stirrup




Smoke bomb release system




---


WASABI



SOL





SOL





This is just a reference table. It can not be used as exclusive resource for size decision. Consult your dealer.