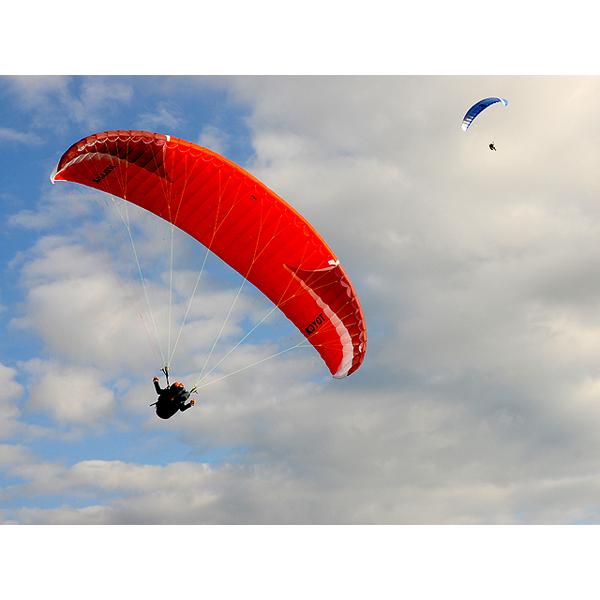 NIVIUK - Koyot2
Price: $0.00
Product Code: LTF1
Product Status: available
KOYOT2 - A new concept glider for a broader range of pilots
Niviuk is proud to present the KOYOT a new concept for a glider, a glider carefully designed for a broader spectrum of pilots. Whilst it is primarily a first wing it has not been specifically developed for just schools and beginners. This is a wing which will allow even the more experienced pilots to remain happy in the air for many years.
The overall piloting finesse, performance, handling and security of the KOYOT is like no other in this class.

The KOYOT2 is made using only the best available materials, the Skytex 45 evolution, a material which has been carefully selected to be long lasting and substantial, tough enough to stand the rigours of any terrain. A wing purposely designed to allow you many years of pleasurable and safe flying.
KOYOT - A glider for the years ahead
With the advancement in Niviuk design technology, chief designer Olivier Nef and his R&D team have developed a glider which not only offers supreme performance and handling but also offers no compromise on safety and security. Flying the KOYOT is truly a pleasure in all conditions, at Niviuk we know the importance of confidence and happiness.

Niviuk now offer you the option of not having to change your glider shortly after training. The KOYOT will allow you to learn, progress and experience the passion of paragliding for many years after your very first flight. The KOYOT is extremely well suited to either the very new pilot, the slightly more experienced pilot or even the very experienced pilot who wishes to fly with total relaxation . At last, a glider to keep for many years ahead.
KOYOT2 - Stress free and pleasurable flying
The completely new design of the KOYOT allows an ultra easy and stress free launch without over shooting and when landing flaring for a perfect touch down is simplicity itself. In the air you will have perfectly balanced feedback, precise manoeuvrability and total control. The danger of "over control" has now been almost completely eliminated yet the wing will react smoothly and progressively to every input made, giving you the confidence and ability to gain experience with every flight.

With its high arch and superior line distribution the KOYOT offers the performance and stability second to no other wing in the LTF 1 and EN B class. This is not simply an update of our first school glider, the very successful NK1, this is a totally new design.

KOYOT2 - Pleasurable
We wanted to offer you the easiest glider, easy lines, no risks for knots on take off. An extreme easy inflation in one block, soft, no overshooting and on top of all this you will even have the right to some handling errors. While flying, once again it is very easy, the glider goes where the pilot wants it to go. Sensations are very secure and allow you to enjoy 100% your flight. As the glider is performing, it will allow you to explore different horizons further away than the landing spot. And finally the landing is extremely easy!! A generous landing flair out will fulfil your face with a big smile!!