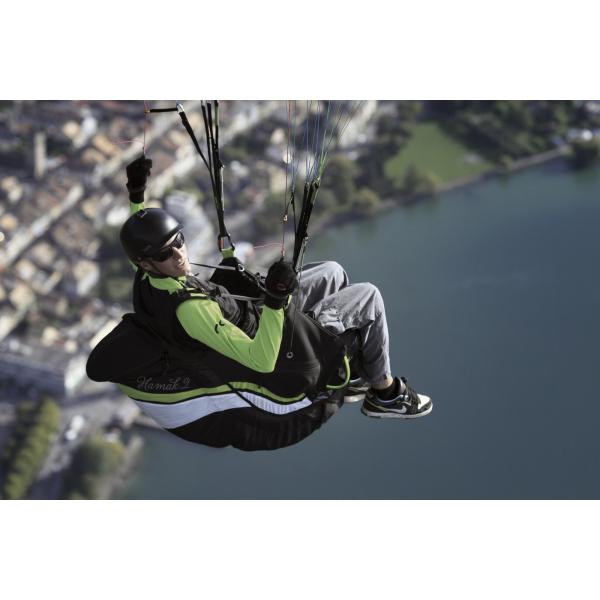 Hamak2
Price: $850.00
Product Code: Hamak2
Product Status: back order
The original Hamak Harness returns with several improvements. If you didn't think Niviuk could make their Hamak even more comfortable, then they have proven you wrong. The catchcry from pilots experiencing the Hamak 2 is "Throw me a blanket and I'll see you in the morning". The intuitive adjustments allow piloting of the wing in a fully upright position, a slightly upright position, or in a totally supine position for cross country flights.
With use of only the most technologically advanced materials, Niviuk have created a lighter, more aerodynamic harness, featuring mesh on all components which are in contact with the pilot, allowing comfort and excellent ventilation. In addition, the Hamak 2 employs easy shoulder and leg adjustments, two buckle security, and Niviuk's optimum reserve position extraction system (Certified EN - LTF).
Features of the Hamak 2 also include:
Aerodynamic neoprene skirt.
Large dorsal storage area with inner radio / liquid pack pocket.
2 zipped pockets on each side of the harness
Removable and adjustable foot rest.
Elastic string for retracting the speed bar.
Harken pulleys to offer less effort and more fluidity when using the speed bar.
Visible rings to attach ballast, cockpit instruments or towing bridle.
"Y" Risers for rescue
Weighing in at just 5.6 kg (Harness and protection, size M), the Hamak 2 comes in three sizes; Small: from 152cm to 169cm, Medium: from 170cm to 184cm and Large: from 185 to 198cm.