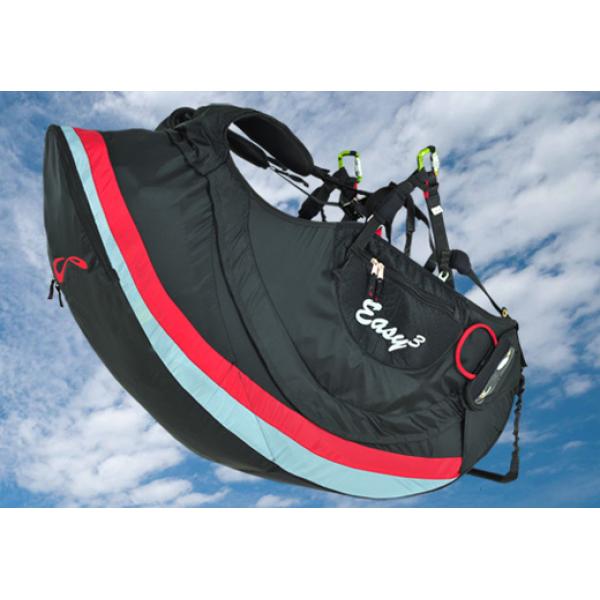 EASY 3
Price: $595.00
Product Code: EASY 3
Product Status: back order
To increase comfort and ease, a new geometry in the pilot weight distribution was applied, providing a better and direct response to the pilot's command.
It's new rescue release system simplifies the use of the foot stirrup and speed system. It follows the directives given by the European associations aiming at systems which are easier to handle and less fallible in installation.
Differences compared to it's predecessor:
a) foot stirrup included;
b) new rescue release system with less error-prone rescue installation;
c) new geometry for better weight distribution, comfort and handling;
d) radio holder.

Completely certified for back protection, structure (120kg) and operability.
---
COLOURS
---
SIZES
M, L and XL
---
WEIGHT
---
WEIGHT x HEIGHT
This is just a reference table. It can not be used as exclusive resource for size decision. Consult your dealer.
---
MATERIALS
Fabric:
- Cordura®
- Nylon High Tenacity Rip Stop

Buckles and hardware:
- Australpin
- ISR
- Charly-Finsterwalder
- National Molding

Straps:
- Poltex: Polyamide and High tenacity Polyester.

Finishing:
-Neoprene
-Zipper YKK
---
MANUAL
Click here to download the Easy3 Manual in PDF format.
---
CHARACTERISTICS AND TECHNICAL RESOURCES




-Back Protector 18 cm;




-Foot Stirrup guide;






-Foot stirrup;




-Rescue compartment 5 blades;






-Water compartment;




-Extended speed pulley;





-Independent bridles system according to LTF/ EN norm;




Adjustable Quick Lock T-Cobra for 38-55 cm;






-Side adjustment with trimmer and safety strap;




-ABS System;






-Quick Lock leg buckles;




-Passage for ballast hose exit;






-Anatomic shoulder cuts;




-Back composed by ergonomic foam and PP plate;






-Spacious side pocket;




-Shoulder strap attached to seat;






-Lateral reinforcement for better load distribution;




-Impact and perforation protection plate;






-Spacious back pockets;




-Spacious storage compartment






-Reference measure marked on the chest webbing.






---
IDENTITY:
SOL








EASY 3






SOL