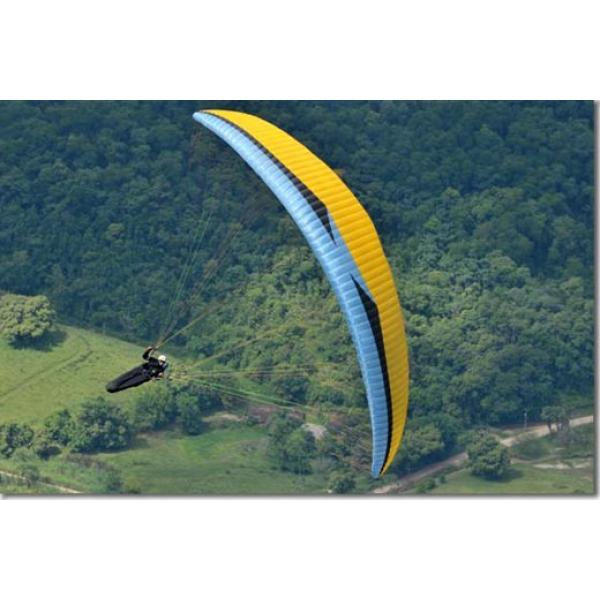 SOL - Torck 2
Price: $4100.00
Product Code: 400
Product Status: available
We know that 50% of our time in flight is spent climbing in thermals, and for this reason we sought a design that offers a clear advantage in this regard, compared to other projects of the same class available on the market.
The Torck 2 offers excellent performance in thermals and in transitions, ensuring good flights for its pilots.
SOL Paragliders are known for their durability and performance. Our tests and research conducted mainly on aerobatic and competition wings give us the knowledge to choose the right materials. In the Torck 2 we have a substantial reduction of weight and drag due to the use of WTX-40 Gr/m2 cloth in the entire wing, while ensuring that it retains its performance over time. So we feel confident in saying that we have the best weight / performance / durability ratio on the market.
Certified EN D for pilots seeking a paraglider that achieves great performance without sacrificing the security level of the category.
---
PHOTO GALLERY
Click here to view the TORCK 2 photo gallery.
---
The TORCK 2 incorporates these SOL performance and comfort technologies:
---
THE PILOT, AND THE WING'S BEHAVIOR DURING FLIGHT
The Torck 2 was developed for pilots with a few years of experience, who are familiar with performance gliders, and are flying great distances, and in competitions; and also for pilots flying intermediate wings who have accumulated the experience to move up to a first performance glider.
The Torck 2 has an immediate response to brake input, as well as high stability, leaving the pilot free to make the most of flight conditions.
Gains in performance, handling and thermal climbing have allowed a reduction in sail area, increasing glider strength and stability in flight.
---
DESIGN AND CONSTRUCTION
The wing's layout is advanced and modern, featuring more detailed construction, with 71 cells, and a higher aspect ratio than its predecessor, allowing complete utilization of the performance profile, without sacrificing the safety and handling desired for this project.
More efficient and accurate calculations were used, resulting in a smoother and cleaner sail. Diagonal tabs in all cells reduce the amount of lines and help in the precision of the whole set.
In the construction of the TORCK 2, SOL uses materials that allow us to guarantee the original characteristics of the equipment for 300 hours and/or 3 years.
---
SOL CONSTRUCTION CHARACTERISTICS
• 71 cells, and 10 of them are closed;
• Diagonals bands (A, B and C) in all cells;
• Internal sewing;
• Trailing edge reinforced with Kevlar;
• New line layout with a 15% reduction in the consumption Mylar/Carbon reinforcements Direct conncetion system for brake lines.
The materials used were carefully chosen to guarantee a high durability and high security level. All SOL Paragliders are manufactered in our own factory, DHV certified.
---
FLIGHT CHARACTERISTICS
• Optimal inflation and easy handling;
• Excellent take-off, even without wind;
• Comfortable handling and great performance in thermals;
• Low sink rate;
• Increased speed window;
• Exceptional accelerated glide;
• Very flat polar curve;
• Very stable at full speed.
---
TORCK 2 COMES WITH

• Backpack;
• Internal protection bag;
• Tie straps;
• Riser bag;
• Windsock
• Manual;
• SOL Cap;
• Basic maintenance Kit (line 1.1 and Rip stop sticker);
• Measuring Tape to check the distance between carabiners;
• Standard speed system.
---
WARRANTY
Every SOL paraglider has a warranty covering 3 years or 300 hours of use
Click here and read the Warranty Terms. .


---
Click here to see the Torck Line Layout in PDF format.



---
MANUAL
Click here to download the Torck Manual in PDF format.




---
CERTIFICATION
Torck 2 is a LTF/EN-D certified paraglider.
---
2D VIEW
---
COLOURS
---
TECHNICAL DATA

(*) Glider performance depends of position of the pilot and the aerodynamic style of the harness.
---
MATERIALS
Since 1991 SOL has been producing and following the evolution of materials and products. Our experience makes us choose the materials carefully, thus guaranteeing a good stability and a high safety level. All SOL paragliders are manufactured in our own plant, certified by DHV.

Top/Bottom:
WTX 40 gr/m2 Nylon 6.6 HT Pu+silicon

Profiles/Diagonal:
Pro-Nyl 42 gr/m2 Nylon 6.6 HT Pu hard

Reinforcements:
Mylar/Carbon Diax 60P/120P

Lines:
COUSIN 12240 - 0,9 mm Cousin Vectran® ULTIMATE uncovered – BL 95 kg
COUSIN 12470 - 1,2 mm Cousin Vectran® ULTIMATE uncovered – BL 150 kg
COUSIN 978 - 1,1 mm Cousin Superaramid Technora covered – BL 85 kg
COUSIN 978 - 1,5 mm Cousin Superaramid Technora covered – BL 150 kg
COUSIN 988 - 2,1 mm Cousin Superaramid Technora covered – BL 237 kg


Risers:
Fixoflex Polyester high tenacity 15 mm 1200 DaN

Carabiners:
Ansung Inox 15 mm
Pulleys
Nautos/SOL
---
COMFORTABLE TECHNOLOGY:

1- Brake pulley;
2- Risers magnetic button;
3- Swivel;
4- Magnetic button in the brake handle;
5- Nylon inserts on the carabiners;
6- Nautical pulley in the speed system;
7- Speed system clips.
Related Products