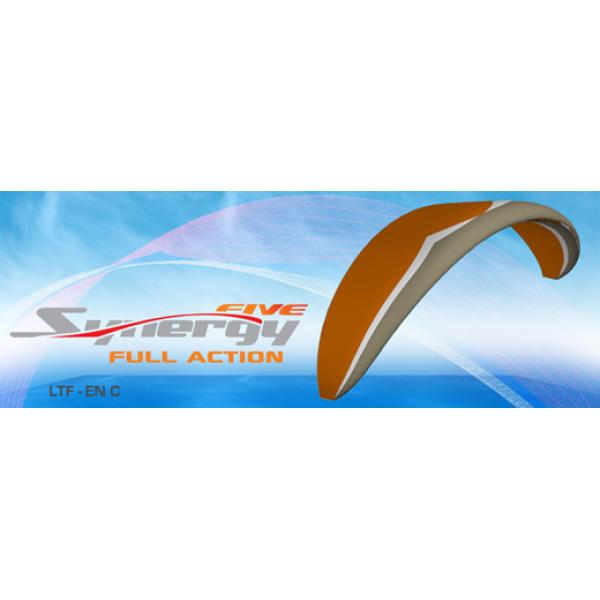 SOL- Synergy 5
Price: $3800.00
Product Code: SOL- Synergy 5
Product Status: available
The Synergy Five is a result of further development from the concept of the 1-line SOL One and 2-line TR2 projects paired with the application of a new calculation and simulation software.
The outcome is a compact and lighter wing that is pleasant to fly and impress with its extraordinary performance potential in the category.
The Synergy Five is certified LFT / EN C and its target group are thermal proven pilots with initial cross flight experience, upgrader from the LTF / EN B class as well as ambitious long distance pilots.
Due to its characteristics, the Synergy Five allows the pilot constantly to develop technically and to improve his abilities in cross flights or to focus a safe entry in competition events.
With the new knowledge it was possible to design a glider with an exponential increase in performance by reducing the real A/R without reducing the projected A/R. This allowed the use of a profile with higher performance, better handling and more stability in turns.
New on Synergy Five compared to its predecessor
• New Design;


• New 15 cm narrow risers;

• Plus 0,8 glide;

• Plus 4-6 max. speed;

• Weight reduction: 8-10% lighter;


• BT: Batten technology - battens reinforcements;

• Three risers system and 15% less line consumption;

• More compact canopy relating to real x projected A/R.
VIRTUAL REALITY
Our SOL Virtual Reality Center is a new software managing the technical and practical knowledge gained during 20 years of development in the form of technical informations , more accurate calculations and more efficient simulations.
It's possible now design faster new products that meets SOL philosophy of products exponentially better than current ones, providing significant advances in four attributes: security, performance, ease of use and innovation.
Click at the picture and customize your personal wing >>>
(*) Glider performance depends of position of the pilot and the aerodynamic style of the harness.
The Synergy Five presents:
• Top and bottom design;
• Riser for big ears;
• Diagonal bands to reduce weight and the number of lines;
• Profile reinforcement in Carbon/Mylar;
• Reinforcements in batten technology;
• Opening on the stabilizers to remove dirt;
• Panels, profiles and parts cut by laser.
Its higher aspect ratio allows a more precise piloting both to active pilots who like to use the body, as well as to passive pilots who prefer to act using the brakes. This characteristic allows a great performance in weak and strong thermals, while stability is maintained.
• Long and tolerating brake length;
• Excellent and precise handling;
• High internal pressure;
• Stability in full speed;
• Light reactions in extreme conditions;
• Good passive safety;
• Excellent take off characteristics, even in nil wind;
• Comfortable piloting;
• Good behaviour in thermals.

• Big deluxe backpack;
• Internal protection bag;
• Compression strap;
• Risers' protection sack;
• Wind sock;
• Basic repair kit;
• Speed bar;
• User's Manual;
• Cap;
• Measuring Tape to check the distance between carabiners.


Certified
LTF/EN-C by EAPR.
Click on the sizes to see the test results:
S, M, L and XL.
Since 1991 SOL has been producing and following the evolution of materials and products. Our experience makes us choose the materials carefully, thus guaranteeing a good stability and a high safety level. All SOL paragliders are manufactured in our own plant, certified by DHV.

Top/Bottom: WTX 40 gr/m2 Nylon 6.6 HT Pu+silicon

Profiles/Diagonal Pro-Nyl 42 gr/m2 Nylon 6.6 HT Pu hard

Reinforcements: 2,8 mm Nylontab (Profile front)

Lines:
-COUSIN 12240 - 0,9 mm Cousin Vectran® ULTIMATE uncovered – BL 95 kg
-COUSIN 12470 - 1,2 mm Cousin Vectran® ULTIMATE uncovered – BL 150 kg
-COUSIN 978 - 1,1 mm Cousin Superaramid Technora covered – BL 85 kg
-COUSIN 978 - 1,5 mm Cousin Superaramid Technora covered – BL 150 kg
-COUSIN 988 - 2,1 mm Cousin Superaramid Technora covered – BL 237 kg

Risers: Fixoflex Poliester high tenacity 15 mm 1200 DaN

Carabiners: Ansung Inox 15 mm

Pulleys: Nautos/SOL
Related Products