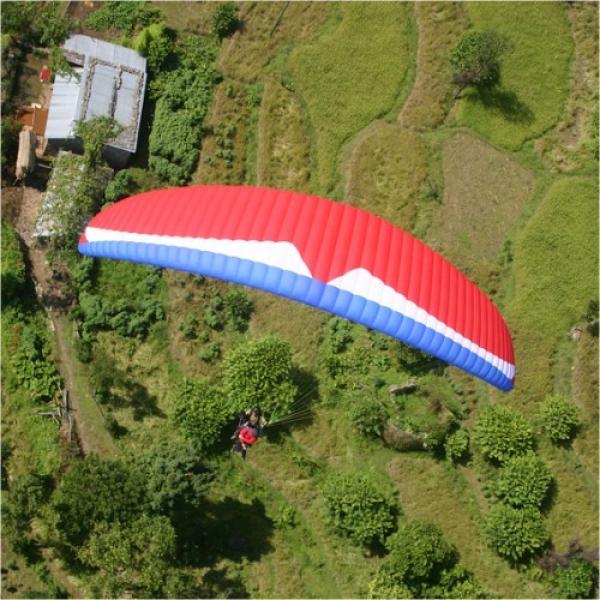 SOL - Kangaroo 3
Price: $3800.00
Product Code: K3
Product Status: available
The Kangaroo 3 is the result of the difficult job to top the performance of its predecessor Kangaroo 2 which innovated the canopy conception for tandem flights.
The Kangaroo 2 is a symbol for world records, a tandem wing that outperforms in output and resources among the offered ones on the market. For the successor any of the well known trademarks couldn't be ignored : easy take off, climb performance in even smallest thermals, smooth handling and easy landing characteristics.
After intensive tests, many prototypes and many flying hours, the Kangaroo 3 project impress with its innovative construction with 61 cells - 14 of them closed - hybrid fabrics, 6.26 real A/R and 4.38 projected A/R.
PILOT AND BEHAVIOUR DURING FLIGHT
Kangaroo 3 is a tandem glider for qualified and experienced pilots. Performance and handling are the two features that distinguish Kangaroo 3 from other tandem gliders. The balance and quality of the turns (efficiency and precision) and the performance of Kangaroo 3 are same as that of a high level glider. Its manoeuvrability allows Kangaroo 3 to climb the weakest thermals. Kangaroo 2 marks the optimum compromise between handling and performance.

VIDEO
Click here to view Kangaroo 3's video!

PHOTOS
Click here to view Kangaroo 3's photo gallery!
Seu parapente personalizado. Customize your personal wing with >>> MySOLid


The Kangaroo 3 integrates SOL technologies of performance and comfort








DVT (Double V-Tabs): system of internal double crossed V-Tabs in the centre of the wing generating a solid structure for best lift in flight;





(High Project Aspect Ratio): higher A/R in its class : real (6.26), projected (4.38);;




FHT (Full Hybrid Tecnology): hybrid utilization of 3 types of fabric. New lighter fabrics in combination with Gelvenor OLKS;




LCT (Laser Cut Technology): Molds and cutting with Laser equipment;




HTM (High-Tech Materials): highest technology materials guarantee durability - Technora Lines, Diax Laminates, Inox Hardware, Polyester of High Tenacity.



COMFORTABLE TECHNOLOGY:

1- "Female" magnetic button
2- Swivel
3- "Male" magnetic button
4- Nylon inserts for Maillon rapide
5- A risers split for 'big ears'
6- Speed Trimmer
DESIGN AND CONSTRUCTION
Kangaroo 3 uses a new profile (completely developed by computer simulated models). Having tested different profiles, SOL opted for the optimum balance between performance and stability. The construction is extremely detailed with 61 cells, of which 14 are closed. The diagonal bands - A, B, C and D - result in a clean and precise glider.
The layout of Kangoroo 3 is entirely new, with a higher aspect ratio, which results in a precise handling and more performance. The cell width gets smaller as you go from the centre to the wing tip. The space between each block of cells remains the same thanks to a vector strap sewn between each profile/line attachment. The three-level suspension lines have been optimised to reduce drag and make it easier to untangle.

CONSTRUCTION CHARACTERISTICS

Riser for big ears;
5 cm Trimmers certified by DHV;
Diagonal bands to reduce the number of lines and weight;
Profile reinforcement in Carbon/Mylar;
Modern technique applied on cutting;
Clean layout.
All materials used were carefully chosen to guarantee a longer durability and a high level of safety. All SOL gliders are made by SOL's own
All SOL gliders have 3 years or 300 hours of flight warranty.
Click here and read the Warranty Terms.

MANUAL
Click here to download the Koala Manual in PDF format.

CERTIFICATION
Kangaroo 3 is a LTF 2 EN C Biplace certified paraglider.
Click
Click here to see the Kangaroo 3 Line Layout in PDF format. em formato PDF



COLOURS
2D VIEW




TECHNICAL DATA

(*) Glider performance depends of position of the pilot and the aerodynamic style of the harness.
MATERIALS
Since 1991 SOL has been producing and following the evolution of materials and products. Our experience makes us choose the materials carefully, thus guaranteeing a good stability and a high safety level.

Top/Bottom:
Gelvenor LCN066 OLKS 49 g/m2
WTX 40 - 40 g/m2
Profiles/Diagonal:
Pro Nyl 42 g/m2 rip stop PU coated

Reinforcements:
Mylar Diax 60/120 P

Lines:
- 1,0 mm Cousin Vectran
- 1,2 mm Cousin Vectran
- 1,4 mm Cousin Vectran
- 1,5 mm Cousin Superaram
- 2,1 mm Cousin Superaram
- 2,5 mm Cousin Superaram

Risers:
Fitanew 19 x 2,0 mm Flat Multi 1600kg

Carabiners:
Ansung Precision 4mm 800kg